School of Art
Master of Fine Arts
Painting Emphasis
Master of Fine Arts in
painting emphasis
The School of Art offers an in-residence Master of Fine Arts (MFA) degree with a concentration in Painting. In this three-year degree program, comprised of 60 hours minimum, we offer close academic mentorship, courses in art history and critical theory, and the dialogue of a strong graduate cohort. The Painting faculty seek to foster a departmental culture of support, rigorous critique, and collegiality.
Our program emphasizes the possibility and mutability of contemporary painting practice. We conceive of paintings as sites of spatial, temporal, corporeal, and/or intellectual encounters, all bearing great social, political, and historical import. As such, we value critical thinking and experimentation among our MFA students. Further to this end, MFA candidates may elect a secondary studio concentration (e.g., Sculpture, Printmaking, etc.), expanding their conceptual and material purview. Each MFA candidate's degree plan culminates in a written report, public lecture, and thesis exhibition, presented to the faculty, student body, and community at large.
Facilities &
Tech

nology

Studio spaces are provided for MFA students, and are approximately 200 square feet of space. Additionally, students have access to a woodshop, 3D scanner, computer lab, and visual resource center.
Zach Morriss Studio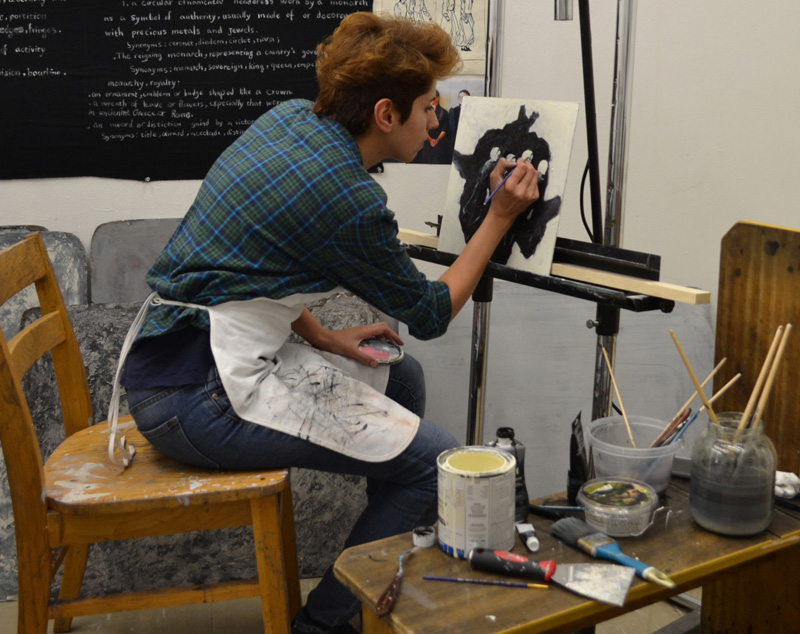 Program
Highlights
Accepted MFA students will be considered for teaching opportunities, such as Teaching Assistant or Graduate Part-Time Instructor, and for financial assistance through scholarships and fellowships. Texas Tech Landmark Arts Galleries, as well as Lubbock's vibrant arts district and community, provide ample opportunity for group shows and collaborative partnerships.
STUDENT WORK
Graduate

Students
Current Graduate Students in Painting
Jarys Boyd: Third Year
Anna Lovering: Third Year
Brady Collings: Third Year
Kevin Abankwa: Second Year
Mamak Razmgir: Second Year
Michele Pierce: Second Year
Elizabeth McMains: Second Year
ad
mission

s
APPLY NOW
TUITION ESTIMATOR
Curr
icu

lum
ONLINE CATALOG INFORMATION