Converging News
July 2012
In this issue of Converging News:
TEXAS TECH RESEARCHERS RELEASE BOOK ON WEB-SPINNING HERO
by Kara Waggoner, photos by Riannon Rowley and Melissa Wofford
Two Texas Tech University researchers have contributed in a unique way to the summer's hottest topic: Spider-Man.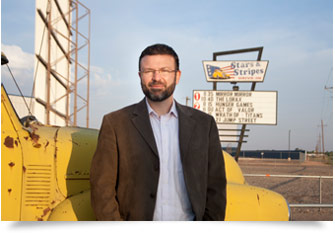 Robert Peaslee, Ph.D.
Robert Peaslee, Ph.D., associate professor of electronic media and communication, and Rob Weiner, associate humanities librarian and liaison of the College of Visual and Performing Arts and Film Studies, co-edited and recently released their book, "Web-Spinning Heroics: Critical Essays on the History and Meaning of Spider-Man."

According to the McFarland Publisher website, http://www.mcfarlandpub.com/book-2.php?id=978-0-7864-4627-8, this volume collects a wide-range sample of fresh analyses of the character, Spider-Man. "It consists of essays that are both insightful and passionate from various authors' and move forward the study of one of the world's most beloved characters."

Peaslee said he and Weiner are good friends who have worked on various projects together. He was initially approached by Weiner of this particular project because they both share an interest in film and superheroes.

"We have both spent a significant amount of time in our careers writing about superheroes, and Spider-Man just seemed like the right thing to talk about," Peaslee said. "At the time, there were some really interesting things going on with the character in the comic book world, so it seemed right to put together an academic collection. Based on the response that we received from all of the different authors that submitted their work, it seemed that we were right."

Peaslee said the two researchers worked on the project for approximately 15 months. He said the book required a tedious step-by-step process, but in the end the result was well worth it.

"We first sent out a call for papers and received abstracts from potential authors," Peaslee said. "We then selected the most promising ones and asked for papers from the authors. They sent us their work, went through the editing process, wrote the introduction and received a forward by Tom DeFalco and afterward by Gary Jackson. The manuscript was put together and we gave it one last edit. It was a slow step-by-step process, but well worth it."

Weiner said he thinks the book is unique because not many people have written about this topic before. He said the editors and authors wanted to create something that was timely and relevant to the superhero.
Rob Weiner poses as
Spider-Man looking over
the Texas Tech campus
"There wasn't much out that was similar to what we wanted to do," Weiner said. "No one has really put out a combination of scholarly essays from all over the world about Spider-Man, and we did it with a unique twist. We wanted to do something that was timely and relevant because Spider-Man is truly a pivotal superhero in popular culture."

Weiner said he also thinks the creative and high-caliber content displayed in their collection will set the bar high for future superhero volumes.

"There are many unique pieces in this book," Weiner said. "Some articles that are published cover the music of Spider-Man, the journalistic aspect of J. Jonah Jameson, gender, romance, and race. We really have a diverse and rich collection of material that I think goes a long way toward the study of a sequential art character like Spider-Man. Hopefully we have set the bar high."

For more information or to purchase, "Web-Spinning Heroics: Critical Essays on the History and Meaning of Spider-Man," please visit http://www.mcfarlandpub.com/book-2.php?id=978-0-7864-4627-8.




WATSON WINS SPRING 2012 STAFF EXCELLENCE AWARD
by Kara Waggoner, photo by Riannon Rowley
Connie Watson, M.A.
This past month, the College of Media & Communication at Texas Tech University announced Connie Watson, M.A., academic adviser for electronic media and communication, as the recipient of the Spring 2012 Staff Excellence Award.

The award is given biannually to a staff member of the college that displays collegiality, promptness, accuracy, knowledge of job, and willingness to go beyond the basic responsibilities.

When Watson received notification of her achievement, she said her initial reaction was that she was shocked. She said she felt honored to receive this award; however, she did not expect the award.

"I feel both flattered and honored to receive this award," Watson said. "You do not do this job for the awards. You do it because it is what you do. It is a nice pat on the back when people recognize that you have gone above and beyond what is expected. It kind of says, 'Yes, you are right where you need to be. You are doing well and we see that.'"

Reviewing the characteristics of what the Staff Excellence Award recipient represents, Watson's modest personality was revealed as she said she would never personally use the selected words to describe herself, but feels humbled that others do.

"I don't know if I would ever use those words to describe me personally," Watson said, "but to have someone else use them to describe my characteristics makes me feel flattered and humbled. Sometimes when you are in a job and have done it for a while, you start to question if you are having an impact. This award confirmed that I must be doing something right."

Watson said she enjoys many aspects about her job, but the most important one is having the opportunity to meet with students one-on-one because the connection motivates and gives her energy. She said she likes to witness the changes in students and how they react to their education.

"There are so many things I like about my job," Watson said. "I enjoy the challenge, the individuality, the youth, the hope, and I like to see the little successes. For instance, when I notice that a student is struggling with something, there is nothing better than to see them overcome it. To watch college students make important choices regarding their education in an advising meeting makes me smile."

Todd Chambers, Ph.D., associate professor and department chairperson for electronic media and communication, said what he most values about Watson is her dedication to both her job and the students. He said he thinks students respect her because she makes a conscious effort to develop relationships with them.

"Connie is wonderful," Chambers said. "She has been a tremendous help to the program of electronic media and communication. What I value about her most is that she spends a great amount of time with students and truly wants to know them. She definitely has a personal connection with the students and they seem to really appreciate her."

Chambers said he is glad Watson received the Staff Excellence Award because he thinks Watson is a major factor in the advising office for being a wonderful resource for both the students and the college.

"One of the things we are really trying to highlight in the college is how good our staff is at developing personal relationships," Chambers said. "To Dr. Marijane Wernsman's credit, I think she allows the advisers to make those connections with students. I think the advising office has had a wonderful history of serving students, and I think Connie is a huge part of it."


STUDENT TEAMS CREATE SUCESSFUL CAMPAIGN PLANS
by Kara Waggoner, photo by Riannon Rowley, artwork courtesy Dr. Autumn Shafer
This past spring semester, two sections of the PR 4312 course competed amongst their classmates for a chance to win the best campaign plan for the selected client, Ronald McDonald House Charities of the Southwest.


RMHC of the Southwest asked the Texas Tech University students to develop a public relations campaign plan that would execute two main goals. The first goal was to increase the overall awareness of the organization's needs and services throughout its entire footprint. The second goal was to assist in planning the promotion of an upcoming 25th anniversary.

RMHC of the Southwest representatives said they think all of the teams did an excellent job in creating a campaign plan; however, Stratic Communications and Western Sky were their top choices for each section.

The Stratic Communications team consisted of Texas Tech students: Alyssa Williams, Amber Sager, Celeste Rocha, Kara Waggoner, Payton Spreen and Sarah Salazar. The client said the team won because it had the most comprehensive and practical written campaign overall.

Autumn Shafer, Ph.D., associate professor of public relations and instructor of the two PR 4312 courses, said she thinks Stratic Communications won its section because the team members worked well together from the beginning. She also thinks the students stood out to the client because of the extensive research they conducted throughout the entire footprint.


Stratic Communications
"Stratic Communications was a team that seemed to have come together early on and worked together well," Shafer said. "They were able to build off each other's strengths. One thing I think they did really well was their research. They reached out way beyond Lubbock, surveyed more people than any other team in both sections, and put together a campaign that I think was built on solid research."

Payton Spreen, a senior public relations major, who will graduate in August, from Ballinger, Texas, was a member of Stractic Communications. Spreen said he thinks his team was successful in creating a campaign plan for RMHC of the Southwest because of its work ethic and the effort to address every aspect of the client's needs.

"I would credit our success to the level of commitment and work ethic our group showed throughout the course of the semester," Spreen said. "Our group went the extra mile when we conducted research, and each member made an effort to produce quality work all semester long. We also made sure that in every aspect of the campaign, we were addressing the client's needs. We wanted it to be clear that we paid attention to them, and our campaign reflected that."
Western Sky
Western Sky was the other winning team for its section and consisted of Texas Tech students: Andrew Hudson, Brittany Mayo, Channing Martin, Emma Dawson and Lance Rawls. The client representatives said they selected the winning team because the students were very detailed in their plan for both the awareness and 25th anniversary challenges.

Shafer said she thinks Western Sky was a very energetic team who seemed to truly enjoy the campaign process throughout the semester. She also thinks the students went above and beyond creatively and presented original ideas.

"Western Sky was a great team," Shafer said. "They seemed to have a fun time planning the campaign, and they really went above and beyond on the creative side. Their ideas were original, and they tied them all together into a red-shoe theme."

Channing Martin, a recent Texas Tech public relations graduate from Amarillo, Texas, said what she enjoyed most about the campaigns course was her team because the members worked well together. Martin said she thinks this experience has benefited her because she is properly prepared her for a career in the public relations industry.

"This class has truly prepared me for a career in the public relations field," Martin said. "It has given me the tools and experience I need to feel confident in the pursuit of my career. Many classes I have taken prior taught me how to do research and interact with clients, but this course really taught me how to implement it all by providing a hands-on experience."

Previous Issues
Click here to subscribe
to our newsletter
College of Media & Communication
Address

Texas Tech University, Box 43082, Lubbock, TX 79409

Phone

806.742.6500