This College of Education graduating senior sent fan mail to former Texas Tech quarterback B.J. Symons as a child.
When Madison Hilliard was 4 years old, her father, Trent Hilliard, did not have to pull a colorful picture book from a bookshelf to read her a bedtime story.
Instead, he slid out a special box full of sports articles she stashed beneath her bed – her prized collection of athletic feats from her parents' alma mater, Texas Tech University.
"I remember my dad would read those with me all the time," Madison said.
One of the Red Raiders who made the cut of Madison's scissors was B.J. Symons, Texas Tech's quarterback in 2003.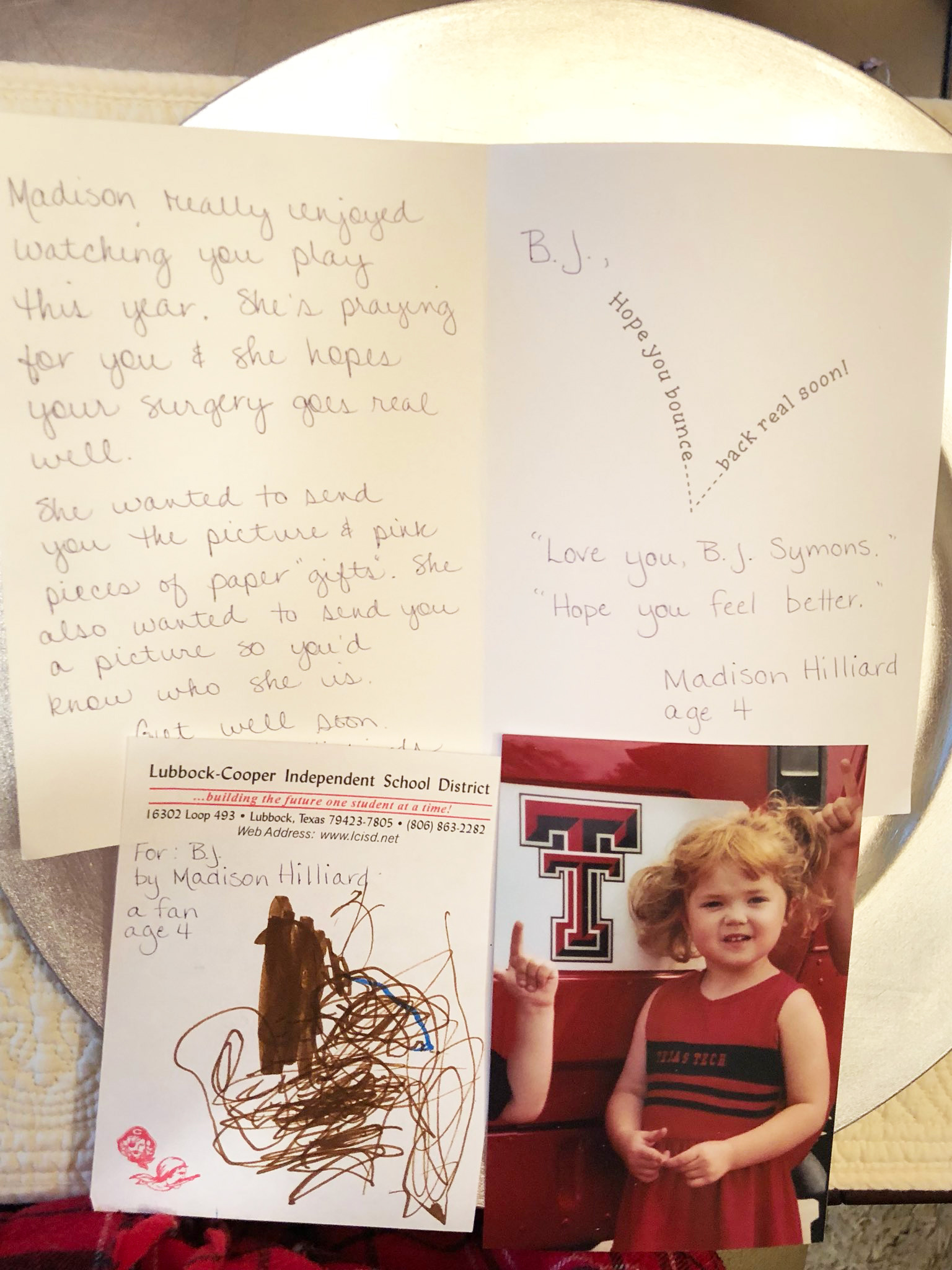 He garnered her attention not only with his record-setting plays, but also from his torn ACL that would require surgery.
"She was very concerned about him," Madison's mother, Cindy Hilliard, said. "She would pray for him at night, that he was going to be OK."
Cindy watched with pride as her little girl took her concern a step further. Madison gathered markers and drew Symons some elaborate scribbles on a notepad.
Then, on a "Hope you bounce back real soon" card, Cindy wrote Madison's words:
"Love you, B.J. Symons. Hope you feel better."
That card, enclosed with a picture of Madison in her Texas Tech cheerleading uniform, reached Symons during a challenging time.
He played with an injured knee for at least seven games before learning the true cause of his pain. He recalls he either limped or threw "like a statue" as he struggled to perform.
"You always want to give your best on the field for your team, and not being able to compete at 100% was challenging," Symons said. "So there were physical challenges, but then also mental challenges of being hurt and not really knowing what was wrong."
Madison's support meant so much to Symons that he kept her card in his very own special box of memorabilia from his time at Texas Tech.
Much later, in 2018, he opened the time capsule as a distraction from cleaning.
"I was like, 'Oh, this is interesting,'" Symons said. "So, I just started going through and reading some of it."
That is when he came across the picture of Madison and her wholesome words spoken 14 years prior.
Symons snapped a picture of her card and shared it to a platform he did not have access to as a Red Raider – Twitter – along with a "thank you" note to Madison.
He closed it with:
"I would expect to find out you are officially a Red Raider now. Wreck 'Em!"
Funnily enough, Madison was, in fact, enrolled as a first-year student on the Texas Tech campus. She chose to become a fourth-generation Red Raider, and the news of Symons' tweet traveled quickly to her in Lubbock.
"I was like, 'Oh, that's so cool that he kept that from so long ago and it meant enough to him that he wanted to post about it,'" she said.
Not only was Madison continuing a Red Raider family lineage, but she also planned to follow a family career path; she enrolled in the College of Education with plans to become a coach.
This choice was special to Trent, a high school teacher and coach for 33 years and the grandson of Polk Robison: the Red Raider basketball coach from 1942 to 1961 and Texas Tech athletic director from 1961 to 1969.
"I think just seeing all the behind-the-scenes and being around sports my whole life, I didn't want to all of a sudden just not be around it anymore," Madison said.
As she began student teaching, it became apparent one of Madison's childhood traits never changed: her genuine care for those injured, partially because she knows how it feels.
Like Symons, she too had to have knee surgery. Her condition required her to sit out of athletics her junior and senior years of high school. That experience has helped her approach students in similar situations.
"I want to know what happened to them and how they're feeling," Madison said. "I want to know if they're OK. That has always stuck with me, caring about others."
That quality is one Symons believes is essential in a coach.
"Persevering and overcoming obstacles and challenges is something you need to be able to instill in your players," Symons said. "A coach has to be supportive like that."
As this weekend's commencement ceremony approaches, almost 20 years after Symons received Madison's card, the fandom has turned full circle.
Symons applauds Madison for trading in her childhood Texas Tech cheerleading uniform for her cap and gown – and even more so as she aims to create athletes whose accomplishments are also worth clipping from the newspaper.
"It will be exciting to stay in Lubbock and still support Texas Tech and all the teams around here because this is where I'm from," Madison said. "This feels like home, and it's where I need to be."