Converging News
November 2012
In this issue of Converging News:
Rob Weiner, Associate Librarian and instructor in the Honors College
During the week of Oct. 14, College of Media & Communication faculty collaborated with departments across campus to be a part of the 2012 Open Teaching Concept hosted by the Cross-Cultural Academic Advancement Center. Various Texas Tech University faculty members opened their classrooms where students had related class discussions about the presidential election.

Media & Communication faculty members Kent Wilkinson, Ph.D., Robert Peaslee, Ph.D.; Jerod Foster, M.S. and graduate students Patrick Merle, Mehrnaz Rahimi, Hyo Jin Kim and Niyi Bello participated in the Open Teaching Concept.

Kent Wilkinson got involved with the Open Teaching Concept through his membership on a Cross-Cultural Academic Advancement Center committee interested in emphasizing importance of diversity. He used his International Electronic Media class to discuss international perceptions of the United States' political system. Graduate students representing France, Iran, South Korea and Nigeria discussed how each nation perceives U.S. politics and elections. Wilkinson said he hopes students realized their peers can be great resources for information.

"I invited graduate students from different parts of world to come speak to the class and give summaries about the way the election is being covered by their country," Wilkinson said. "We have these great sources of information not only about politics but about culture and economic systems and different ways of seeing the world and humanity here on campus. We ought to be listening carefully to them."

Robert Peaslee is also a member of the Cross-Cultural Academic Advancement Center committee. He gave two presentations in his Visual Communications class. One presentation discussed the role of comics and cartoons in politics and included commentary from Rob Weiner, Associate Librarian and instructor in the Honors College. Peaslee also partnered with Jerod Foster to discuss photography and the political process. Peaslee said he hopes students have a better understanding of the media and the political process, as well as how pop culture influences perceptions of candidates.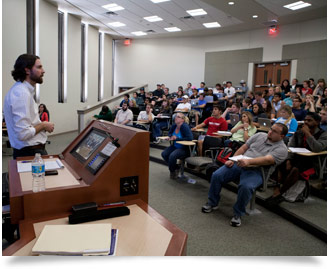 Jerod Foster, M.S.
"Pop culture generally has an impact on how we see candidates and how we come to understand issues, and ultimately, how we make decisions when we go and vote," Peaslee said. "My goal with that class is to foster a more critical attitude toward visual media, particularly those visual media that present themselves to us as just entertainment."

Foster analyzed multiple campaign photographs with students and discussed how the photographs depicted the candidates. Foster said he hopes students who attended the presentation were inspired to "read" photographs.

"It's the idea that we need to spend some time actually analyzing photographs," Foster said. "Certain photos beg a little more analysis, especially political photos we see with campaigns and particularly what the newspaper provides us."

The goal of the program was to stimulate thinking and discussion about the election across disciplines and classrooms. Wilkinson, Peaslee and Foster all said programs like the Open Teaching Concept are beneficial to students because the program introduces them to unfamiliar disciplines and points of view.

Top


Faculty Research: Autumn Shafer
video by Ben Jarvis
David Peveto behind the RaiderComm office sign
David Peveto is a junior public relations major from Houston, Texas, who is reviving the student-run public relations firm, RaiderComm. RaiderComm was lost in the reorganization of the College of Media & Communication's Public Relations Student Society of America chapter to Tech PR. Thanks to Peveto, RaiderComm is booming with opportunities for students.

RaiderComm is a student-run public relations firm and suborganization of Tech PR. Due-paying members of Tech PR are eligible to apply for a position at RaiderComm. A resume, cover letter, and work samples are required with a general application. Peveto serves in a management role, and the rest of the members are divided into specialized teams, such as research, copy editing and digital. Peveto said the time commitment to the organization is similar to a job.

"Working with RaiderComm is like having a job because we are working with actual clients," Peveto said. "The time commitment is like a class. Students can expect to put in at least three hours a week. They have to put in the time to produce quality work because we are working with real clients who are trusting us."

Peveto fell into his director role with the help of Department of Public Relations Chairman Trent Seltzer and fellow Tech PR officers. Peveto said the idea of reviving the firm was mentioned at a Tech PR executive officer meeting. Peveto expressed his interest in joining the organization, but another officer thought he was the man for the director's job.

"I was an officer for Tech PR, and Dr. Seltzer brought up the idea of restarting RaiderComm at an officer meeting. He asked if anyone would be interested in being a member. I said, "yes," and one of the other officers took that as me wanting to restart it. I thought sure, why not."

Seltzer said Peveto was the right person to rebuild RaiderComm because he showed important traits for successful directors.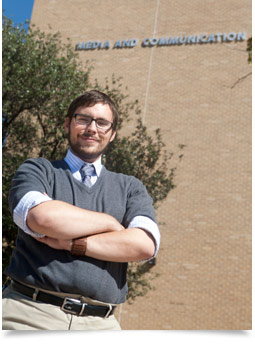 David Peveto
"He showed the initiative early on that I think is necessary to be successful as the director of RaiderComm," Seltzer said. "He is also very organized, and he is very bright. After getting to know him, it became clear that he would be a good choice to lead that. He has done a fantastic job of recruiting more people to be a part of it."

RaiderComm is located in Media & Communication Room 271. The office includes multiple rooms that give the RaiderComm team a comfortable atmosphere for planning and pitching to clients. The organization handles clients on and off campus. RaiderComm's current client is KTXT 88.1 FM. Peveto said RaiderComm's goals for the year include increasing publicity for KTXT and taking on more projects.

"KTXT is going to be a two-semester client," Peveto said. "We are going to conclude our research this semester and do more tactical work, like events and publicity, next semester. We hope to take on a few smaller clients, so when the research phase is finished, the research team can immediately move into another project.

Peveto said working for RaiderComm is challenging, but the hands-on experience is worth the challenge.

"Working for RaiderComm isn't easy," Peveto said, "but it pays itself back because you get hands-on experience. The PR program offers a campaigns class at the end of senior year, but RaiderComm is like having a mini campaigns class each semester. You may learn in PR writing how to write a press release, and at RaiderComm, you'll learn where to send that press release. A good way to say this is: RaiderComm takes what you learn in class one step further."

Top


Previous Issues
Click here to subscribe
to our newsletter
College of Media & Communication
Address

Texas Tech University, Box 43082, Lubbock, TX 79409

Phone

806.742.6500