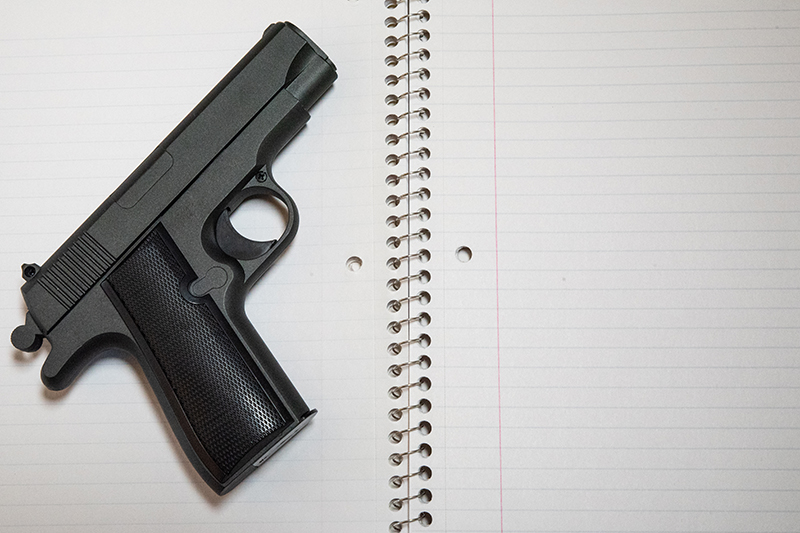 The survey-based study seeks to measure the social acceptability of different strategies to curb gun violence.
Seeking to strengthen a field of research that is at the center of a nationwide public policy debate, professors at Texas Tech University's College of Education have launched a study that will look at ways to effectively reduce the threat of gun violence on K-12 and college campuses.
The survey-based study, by professors Charles Crews and Stacy Carter, aims to measure the social acceptability of different strategies to curb gun violence.
The general public is invited to take the surveys, which are hosted online and take about 15 minutes to complete. Educators, parents and students are especially encouraged to provide their input:
Both surveys are available through Oct. 31 and open to anyone who lives in the U.S.
"In the wake of school shootings in Texas and around the country, lawmakers have called for improving school safety to be a priority," said Crews, a professor in the School Counseling Program.
"Unfortunately, there is a lack of robust research and data that can be used to make crucial decisions about how to address the issue of gun violence in schools in a way that satisfies parents and community members while also ensuring our students and teachers are comfortable. We hope this study will help inform future policy discussions and ultimately make our classrooms a much safer place."
Survey participants are asked to read short vignettes describing different safety measures and gauge the measure's effectiveness and indicate how strongly they agree with it. The hypothetical scenarios include adding metal detectors and armed guards to a school. Another scenario involves training a group of students to evaluate peers and report violent tendencies to administrators.
Carter, a professor in the Special Education Program, is an expert in social validity and in July is publishing the second edition of a book that centers on the subject, "The Social Validity Manual: A Guide to Subjective Evaluations of Behavior Interventions."
Social validity is a concept used in behavioral intervention research and focuses on whether a treatment's goals, intervention techniques and outcomes are socially acceptable, relevant and useful to an individual in treatment. This study seeks to apply the concept to school gun violence.
"Some schools have faced intense backlash for providing buckets of rocks – or even hockey pucks – for students to defend themselves against school shooters. Obviously, these sorts of methods are not socially valid," Carter said.
"We're seeking to investigate some of the more popular methods that schools already use to prevent school shootings to see what is most acceptable for all stakeholders. We also want to explore some experimental methods, such as peer evaluation and response, to potentially open the door for new ways to mitigate violence in schools."
Crews and Carter received a $6,000 internal seed grant from the College of Education to fund the study.
Members of the Institute for Measurement, Methodology, Analysis and Policy (IMMAP) at Texas Tech are also contributing to the study: Jaehoon Lee, the institute's co-director; Kwanghee Jung, a research associate; and Zachary Stickley, a research assistant.
IMMAP is a part of the College of Education and provides best-practice support and novel methodological and statistical innovations for researchers across the social, biological, health, behavioral, educational and developmental sciences.