Language, Diversity & Literacy Studies
Program Description
The Language, Diversity & Literacy Studies concentration is designed to create scholars who are critically committed to empowering and advocating for linguistically and culturally diverse communities of learners. Graduates of this program will experience collaborative and innovative research that leads to knowledge and understanding of multiple learners and their literacies.
Degrees Offered
Ph.D. in Curriculum & Instruction with a Concentration in Language, Diversity & Literacy Studies
Offered: online
Career Opportunities With This Degree
A Ph.D. in Curriculum and Instruction may prepare you to work as a teacher, trainer, or education researcher. The degree can also lead to work in academia, government and business. It can also lead to a teaching career at the university level. If you are an EC-12 teacher, a Ph.D. in Curriculum and Instruction may provide opportunities for leadership roles as curriculum and instructional leaders in your school or district. This degree will provide coursework in research methods, statistics, and policy. These areas are highly valued in government agencies and businesses. Large corporations often have their own education departments and have needs for curriculum designers and trainers.
LDLS faculty and students attending and presenting at the Southwest Educational Research Association (SERA) conference in 2020.
Application Materials
The Ph.D. program in Curriculum and Instruction requires a completed master's degree in the field of education or cognate areas of study from an accredited higher education institution in the United States or equivalent higher education institution in another country.
College Transcripts – Unofficial transcripts can be uploaded to the Graduate School application. Information on submitting official transcripts will be provided to you by the Graduate School. Grade reports or unofficial transcripts from university web portals will not be accepted. Please redact the Social Security Number anywhere it appears on your transcript. If documents are written in a language other than English, a copy of a complete and official English translation must be provided with the original language records.
Required Supplemental Application Materials
GRE Scores, Resume, Three Professional Recommendations, Applicant Statement*, Writing Sample. Download a comprehensive list of requirements.
* In your Applicant Statement, in addition to introducing yourself, please describe your research interests and how LDLS can help you achieve your goals.
Application Process
Please visit the Graduate Application Process for more information on how to apply.
Application deadline for the Fall semester is November 1st, 2021.
GRE Scores
This program requires official GRE scores. Scores must be no more than 5 years old at the time of application. Official GRE scores must be sent from Educational Testing Services (ETS) to the Texas Tech Graduate School. To register for the examination, please visit the GRE Testing website. Texas Tech University's code is 6827.
Due to the ongoing situation surrounding COVID-19, the Graduate School has temporarily changed its admission requirements regarding test scores. The GRE may optionally be submitted by applicants for the 2020-2021 and 2021-2022 academic years. International applicants may use certain alternate exams in place of the TOEFL. Please visit the Graduate Admissions COVID-19 FAQ page for more information.
Semester in which the program can be started
Fall enrollment only.
Estimated Hours to Completion
63 hours of coursework post-master's.
Financial Aid
Scholarships, fellowships, and assistantships for doctoral students are available through the office of graduate education and research in the College of Education.
Tuition & Fees
Use the Student Business Services Tuition Estimator to estimate your costs.
Contacts
Faculty
Fast Facts
Delivery: Online
Hours to Completion: 63
Maximum allowable transfer hours from Master's program: 30
Llano Estacado Writers Alliance: 1 week on-campus writing intensive available
Continuous application reviews for: Fall Semester
LDLS Cohort Summer 2016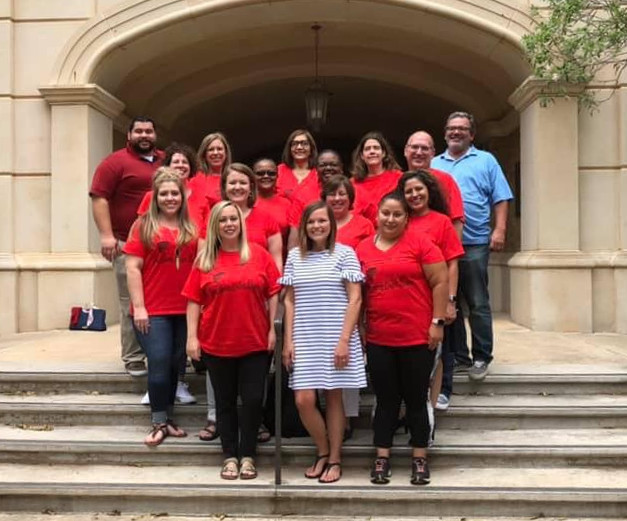 Llano Estacado Writers Alliance Summer 2019