Converging News
October 2014
In this issue of Converging News:
Dean's Note
Dear Friends of and Colleagues in the College of Media & Communication:
Dean David D. Perlmutter, Ph.D.
Bigger is not necessarily better, even in Texas. But the College of Media and Communication is growing quickly, and if you walk through our halls you will see many new faces; come back in a few months and you will see even more. Twenty years ago you could train a student for one career—say, print reporter, or public relations agent. In truth, many people who started out on those paths reinvented themselves and ended up pursuing different professional ventures. Now, our students need to be infinitely adaptable and probably will take on dozens of different careers in their working lifetimes. That means that we need to cover more areas of research, learning, and student support. So we have hired, or are in the process of hiring, almost 10 new fulltime faculty covering such areas as digital gaming, Hispanic media and family communication. We are hiring a series of new staff people to help students efficiently navigate their college years and find jobs. Also, we created a new administrative post—Associate Dean for Undergraduate Affairs—to focus on the overall organization of everything we do to help undergraduate students succeed in coming to Tech, during their education, graduating, and finding invigorating employment. At CoMC, we are not afraid of change, but we always ask a central question before we do anything: Will this help our students?
David D. Perlmutter, Ph.D.
Professor and Dean
top
Scholarship Luncheon: A Great Success
By Preston Redden, Photo by Clara McKenney
The McKenzie-Merket Alumni Center was abuzz with students and alumni alike on Friday, Sept. 12, for the 2014 College of Media & Communication Scholarship Luncheon. Students and scholarship donors had the chance to be recognized for their contributions to the college.
Shannon Smith, director of development, helped plan the scholarship luncheon. She said the event was a great success due to the faculty and staff who helped with the event.
"We have a great team here," Smith said. "It truly was a team effort from logistics to event planning. It was all hands on deck."
Dasha Ivanova, senior public relations major from Russia, served as the guest speaker at the event. She said she felt honored to be offered the opportunity to speak at the luncheon.
Dean David Perlmutter speaking at the luncheon
Ivanova was born in Uzbekistan in 1990 and grew up in Russia. She then came to Houston in 2009 and began studying public relations at Texas Tech in the fall of 2013. Ivanova said her background, life in Russia, and decision to attend Texas Tech served as the focus of her speech.
"After the speech, many people came up and told me how much they liked it," Ivanova said. "It was very nice to hear but I did not expect that many people to like it. I have never felt like that before in the United States. It was such an honor to be chosen. It was a great achievement and I am very grateful that they chose me."
Smith said her favorite part of the luncheon was seeing the interaction between the scholarship donors and scholarship recipients. She said she appreciated the fact that students could thank the donors in person and the donors had the opportunity to come back and visit the university.
"The donors really love sitting with their recipients," Smith said. "I wish all donors could come to the luncheon because it helps them fall in love with Texas Tech all over again. Lots of people come to campus and reminisce about their time at Texas Tech. In return, they want to give back to the university."
There is numerical proof that the scholarship program within the College of Media & Communication has been a success. Rebecca Kibitlewski, senior business assistant, provided statistics that showed a total of $286, 393 in financial aid was awarded to 167 students. The number of scholarship applicants this year nearly doubled from last year, and the number of recipients also increased.
Later, Ivanova said she wanted to combine her love for the college and how thankful she was to be chosen as the luncheon speaker by Dean David Perlmutter and the college faculty. Ivanova said she wants to serve as an example for students before she graduates in May.
"I want to continue to keep up the good work," Ivanova said. "I also want to be an ambassador of the college. For me, education is the greatest thing you can get in your life. Many people do not have the opportunity to go to college. I am grateful that I am here at one of the best universities in America, that I have the opportunity to go to classes, and that I have a great internship."
Smith said organizing the luncheon is a year-round project and planning for next year's luncheon has already begun. The planning committee is already in place and will have a meeting before the end of the fall semester.
top
New Faculty Generates More Knowledge for Texas Tech University
By Dasha Ivanova
"The job at Tech was a great fit for me," John Velez, Ph.D., said. Velez is a new faculty member in the Texas Tech University College of Media & Communication.
Velez earned his doctorate from Ohio State University and came to teach at Texas Tech in May. "Texas Tech was very fast. I didn't have a chance to interview anywhere else. It was the first interview I had and the first offer I got," Velez said.
From a young age, Velez has been interested in academics.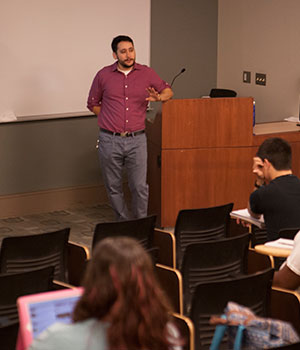 Velez teaching students in class
"When I decided to pursue higher education, I realized that public communication is perfect for me," Velez said. He earned his Bachelor of Arts in Social Psychology from the University of Alabama. He chose that major because he was interested in how the brain works and how people behave.
Velez's research is heavily based on video gaming.
"I am a tech savvy person when it comes to video gaming," Velez said. "So I am glad I can do research on video games and the psychological effects of video games."
One of his research concerns is the social aspect of video games and how playing cooperatively can decrease the violent effects of video games. Furthermore, Velez analyzes the psychological benefits from using new media by looking into how playing video games can affect people's moods.
"I like to generate new knowledge," said Velez. "Department atmosphere and resource availability made this all possible."
Velez said he believes that Texas Tech's resources help him to succeed and improve his research. "Texas Tech has a lot of resources that are available to me and it's very enticing," he said.
Velez is a professor in the Department of Journalism & Electronic Media. This fall, Velez teaches the Electronic Media & Society and Understanding Video Games courses. He said he enjoys teaching and likes how students engage with the learning process.
"Tech student are very respectful and polite," Velez said. "The main difference I've seen between Tech students and students from the other universities is the level of engagement. Tech students are very attentive, very eager to learn and discuss something new."
Velez recommends to all students who are just starting their education to get involved with the college by being part of an organization or by getting to know the professors.
"Get to know professors. Find out about their research interests and see how you can help out," Velez suggested. "That is how I started my academic career."
Velez's future plans are bound to Lubbock. He wants to continue his research on violent games and be around Texas Tech's students and faculty.
"I love Lubbock, and I love Texas Tech, and I am definitely planning to stay," Velez said. "Everyday I learn about some new aspects from the students and faculty that I had no idea about."
Velez describes his experience in the College of Media & Communication as beyond his dreams. "I am having the best time ever," he said.
top
Zoom In
By Jerod W. Foster
Reprinted with the permission of the Texas Tech Alumni Association
Students taking picture of snake at Junction Intersession
My class wakes up at 5 a.m. By 6 a.m., we are knee deep in the cool water of the Llano River waiting on the sun to peek over the horizon. Fourteen students position their tripods and cameras next to rapids and begin to make long exposures of the flowing water and the colorful reflections of a sky about to burst with light. We stay to shoot for two or three hours, trying to capture the essence of the place, photographing the water, the plants, the wildlife and the people that occupy it. We travel back to campus, cull the poorer of the images and critique the keepers before lunch.
After eating, we break for some time before jumping back in a 15-passenger van and driving an hour and a half to our next location east to an expanse of granite boulders the size of the buildings in the nearby town of Mason. Again, we are about capturing the story of the place, and we will do so from dinnertime until nearly midnight, all the while being aware of the different flowers and grasses protruding from the rock, the effects of drought on the land and fauna, and the visitor's draw to such places. Over the next 15 days, we will repeat this day's long process to produce some of the best natural history and outdoor editorial images in some of the greatest and most awe-inspiring places in the state of Texas.
This story can be found in the Sept/Oct 2014 issue of the Texas Techsan.
If I could identify the origin of my career as both a photographer and an educator, I could in two words: Junction Intersession. I was encouraged nearly a decade ago to take an advanced color photography course from State Photographer of Texas Wyman Meinzer, a course that involved 15 days of landscape and travel photography with the man that defined this genre of work in the state. It changed my life. I ditched the idea of going to law school, started my master's degree, formed a lasting relationship with Meinzer, and started teaching the course with him the very next year as an assistant and then as a co-instructor the next. I was passionate about photography, and in seeing the effects the Junction Intersession had on me come out in other students, I became passionate about teaching photography and visual storytelling.
After teaching with Meinzer for six of the 12 years he taught it, I'm in my third year of teaching solo. Every May, I get to take a small group of students from the classroom in Lubbock, and literally drive them across the state for two weeks to shoot and create defining images of the land, regions and people contained within its borders. We use the Junction campus as our home base and return every day with stout portfolio images, but maybe even more important, with memories and experiences that often cultivate characteristics in students that they will embody for life. The Junction Intersession allows me to push my students in ways the typical classroom can never do, educationally, creatively, physically and from a work ethic perspective. And yet, I've never seen a student take this class and walk away from it saying they gained nothing. Rather, many are changed the same way I was. Many of the students I see go through this course are some of the sharpest and most successful graduates of the university's various programs. Each year, I'm proud, and more important, excited, to once again lead the class as my predecessor did, knowing that each student will have an experience that is hard to define, but positively lasting nevertheless.
Sunset through the trees at Junction Intersession
This description is not unique to the photography class, though. Each faculty member that teaches in and out of the Junction campus feels the same way about his or her own courses, students and experiences. Likewise, I have yet to meet a university administrator who has walked the banks of the Llano on campus and left without proclaiming the beauty and value of this unique place of learning, artistic expression and scientific exploration. A quick visit with the staff and management of the Junction campus reveals another group that is excited to not only work among such Texas Hill Country beauty, but also to be a part of the most formative learning experience students have when in attendance throughout the year and during the summer sessions.
My class ends its 15-day run with a public portfolio showcase of images made all over the state, from Junction and the surrounding communities to as far west as Lajitas and the Big Bend, to as far south as Utopia and the Sabinal River. Students visit with faculty, staff, other students and members of the Junction community about their work and relate stories on how they had to climb mountains for sunset vistas in the desert and lay on the ground mere feet away from a rattlesnake. There's an energy in the room, and it all resounds commonly among the crowd.
It is The Junction Experience.
Jerod Foster, Ph.D., is a professor of practice in the Department of Journalism & Electronic Media in the College of Media & Communication. He is also an editorial and commercial photographer, a Peachpit Books author, and the co-publisher of several books on Texas natural history photographed by Wyman Meinzer. He is a prod¬uct of the Junction learning experience, and continues to advocate for student learning in unique environments like it..
top
Research Recap
Publication by John Velez, Ph.D.
Velez, J. A., Greitemeyer, T., Whitaker, J. L., Ewoldsen, D. R., & Bushman, B. J. (in press) Violent Video Games and Reciprocity: The Attenuating Effects of Cooperative Game Play on Subsequent Aggression. Communication Research. doi: 10.1177/0093650214552519
Lecture & Publication by Erik Bucy, Ph.D.
Regents Professor Erik Bucy gave an invited research lecture on "The Power of Television Images in a Social Media Age: Linking Biobehavioral and Computational Approaches" to the Jacob Marschak Interdisciplinary Colloquium on Mathematics in the Behavioral Sciences at UCLA on October 9 (see http://marschak.ucla.edu/upcoming-talk).
His talk showed how nonverbal coding of political behavior can be used to predict large-scale social media responses by viewers of televised debates. This study is the first of its kind to show these effects. An article summarizing this research, conducted with Dhavan Shah and colleagues at the University of Wisconsin, will appear in a forthcoming issue of The ANNALS.
Shah, D. V., Hanna, A., Bucy, E. P., Wells, C., & Quevedo, V. (forthcoming). The Power of Television Images in a Social Media Age: Linking Biobehavioral and Computational Approaches. The ANNALS of the American Academy of Political and Social Science.
top
Previous Issues
College of Media & Communication
Address

Texas Tech University, Box 43082, Lubbock, TX 79409

Phone

806.742.6500