Curriculum and Instruction
About the Department
The Department of Curriculum and Instruction is committed to serving diverse stakeholders in K-12 and beyond through excellence in teaching, research, and service in order to improve education using innovative practices to create positive change in the dynamic global society in which we all live.
The core values of the Curriculum & Instruction department include social justice, equity, diversity, inclusion, and fairness for all, regardless of differences in race, ethnicity, gender, class, religion, age, (dis)ability, sexual orientation, language, and culture.
We believe that our role as educators and researchers is not only to foster the well-being of our stakeholders but also to create a learning environment in which everyone can succeed.
Dr. Jeong Hee Kim, Department Chair
Dr. Rebecca Hite, Associate Department Chair
Dean's Executive Fellowship Cohort Program
Texas Tech University's Department of Curriculum and Instruction is pleased to announce the Dean's Executive Fellowship Cohort Program as part of TTU's ongoing efforts to promote the internationalization of the TTU community and increase the representation of historically underrepresented students. By recruiting and retaining students within these areas, we seek to enhance the quality of education and research for all students and faculty while making a meaningful contribution to society and the world.
Learn more about the Dean's Executive Fellowship Cohort Program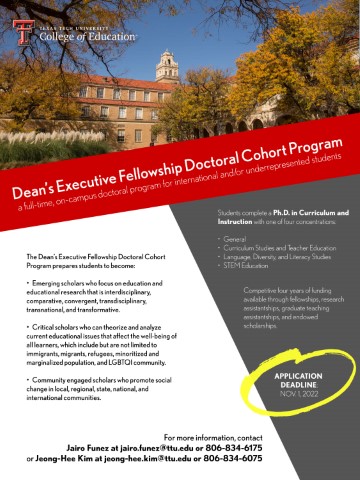 Contact Us
Summer 2022 Departmental Retreat Photos
Doctoral Degrees
For online doctoral programs, the deadline to apply is December 1, 2022.
Graduate Certificates
The College of Education offers Graduate Certificates, which provide an additional credential in your field of study but do not necessarily lead to licensure. Graduate Certificates can also be used as an introduction into your chosen master's degree program.
Graduate Certificate options in the Department of Curriculum & Instruction include:
Departmental Highlights
Research & Honors
News
Student Resources