Outdoor Activities
The following information contains a wide variaty of things to see in Lubbock as well as outside the city. Lubbock is very close to the New Mexico state border. Explore both states and all they have to offer!
Activities in Lubbock
Lubbock Lake Landmark:A part of the Museum of Texas Tech University, this archaeological and natural history site offers 4.5 miles of walking trails, and the preserve, located just 15 minutes from main campus, contains evidence of 12,000 years of occupation by ancient peoples on the Southern High Plains. Enjoy the walking trails, and peer into archaeological dig sites where Texas Tech Students get hands on training. Be sure to also visit the museum inside the information center to learn more about Lubbock's ancient past and the people and animals who once lived here. It is free to the public! Also be sure to catch their Night Hike events.
Prairie Dog Town: Located inside McKenzie Park, Lubbock Prairie Dog town is a great way to get a close up look of one of our local critters, the Prairie Dog! "Prairie Dog Town was the first protected prairie dog colony of its kind and is located in Lubbock largest park. Photo Source: worldwildlife.org
JoyLand Amusment Park: Lubbock one and only theme park has been entertaining Lubbockites for decades! With 30 Rides to choose from, yummy food and games, this is a great place to enjoy the day with friends! Photo source: Joyland Facebook page
SUP*LBK: Enjoy Paddelboarding in Lubbock's historic Dunbar Lake. Get out and enjoy the sun! Open April- October. Boards available to rent by the hour.
Lubbock Moonlight Musicals: Enjoy a show under the Texas stars! Located in McKenzie park, enjoy watching local artists perform Broadway shows. Shows are on through spring and summer. Photo Source: mapquest.com
Texas Water Rampage:Texas summers are HOT! So a great way to cool off is by hanging out at Water Rampage. Relax in the lazy river, zip down water slides, or hand out in the wave pool.
Stars and Stripes Drive in Theater:Enjoy an all American tradition and stop by the drive in theater for a movie night! Stars and Stripes in a Lubbock favorite and a great place to watch new releases in a fun enviorment. Bring your own snacks or visit Thier 50's style café for popcorn, hamburgers, sodas and much more!
No car? No worries! All we can say is make a friend with one! You can bring folding chairs and sit outside the car if you would prefer to enjoy the weather. Photosource:driveinusa.com
National Ranching Heritage Center: A museum and outdoor historical park (next to the Museum of TTU) that preserves and teaches about the history of this region and the American West. Throughout the year, they offer educational programming and events for people of all ages, including annual events like Ranch Day, Candlelight at the Ranch, and Ranch Host Saturdays (select Saturdays in spring, summer and early fall) where the outdoor historical park comes alive with volunteers in period clothing to teach and show visitors what life would have been like in days gone by. Free to the public, though donations are accepted.
Lubbock Farmers Market: Enjoy local fresh farm produce, honey, crafts and handmade products in Lubbock's downtown market. Open every Saturday, May through October from 9:00 am-1:00 pm. Accessible via Citibus.
Wolfforth Famers Market: Wolfforth Texas is a town that has over time blended into Lubbock. You cant tell when you are leaving Lubbock and entering Wolforth anymore! The market stretches across 3 acres and is open year round! With a variety of food, homemade goodies, crafts, farm fresh vegetables, and food trucks this is a great place to spend a Saturday! Visit their website for a complete list of vendors. Photo credit: radio.kttz.org
Adventure Park: There is lots to do at Lubbock's new adventure park! Recently opened this park offers fun for all ages. From Mini-golf, zip-lining, go-carts, a ropes course and much more. Its a great place to adventure in Lubbock! They also offer different event through out the year, including a haunted park event for Halloween. Photo credit: collegiateparent.com

Louise Hopkins Underwood Center for the Arts (LHUCA):Located downtown, this center is a great place to engage with art, film, music, dance and your creative side! It is the epicenter of the monthly First Friday Art Trail, and hosts free opportunities year-round to expose the West Texas community to art and culture! First Friday Art Trail covers not jus LHUCA but other parts of downtown Lubbock. Take a free trolley to a different part of the trail to see all it has to offer. Then grab dinner at one of the many local Food Trucks and enjoy live music or a show. Photo source: The Dailey Toreador
Texas Tech Recreation Building: The massive recreation center offers a variety of ways to stay fit and healthy throughout the school year and well... to just have fun! Some of what the center includes are, a bike rental and repair shop, rock climbing wall, Olympic size swimming pool, indoor running track, weight room, racquetball courts, soccer fields, lacrosse fields, basketball courts, intramural sports, and a variety of classes ranging from yoga, cycling and personal fitness. The center also hosts a outdoor leisure pool with a 645ft long lazy river, a great way to cool off on those hot Texas days. Equipment checkout is available.
Outside Lubbock:
Here is a list of places to visit around the Lubbock area. Take a weekend or day trip to visit these beautiful and historic locations. A car is required to get to these locations.
Palo Duro State Park: Nicknamed the "Grand Canyon of Texas" is the second largest canyon in the U.S. With over 30 miles of hiking trails, it is a great place for hikers of all levels. Most of the trails are rather flat and make for easy hiking. There are a lot of ways to see the canyon. Horse stable at the top and bottom of the canyon are a fun Texas way to explore the area. A guide will lead you and no riding experience is needed. There are also Jeep rides, bike paths, camping areas, cabins, and picnic areas. Be sure to catch the famous TEXAS Musical during the summer months and well as educational ranger programs. Palo Duro is about 1 hour and 30 minutes outside of Lubbock. TTU student life generally takes a group trip during the spring semester.
Caprock Canyon State Park: Have you ever wanted to see a real Buffalo herd? Well this is the place to go! 90 Miles worth of trails offer a great way to visit this canyon, either by foot or by bike and range from easy to challenging. Lake Theo offers swimming, fishing and boating. Caprock Canyon is 1 hour and 40 minutes from Lubbock.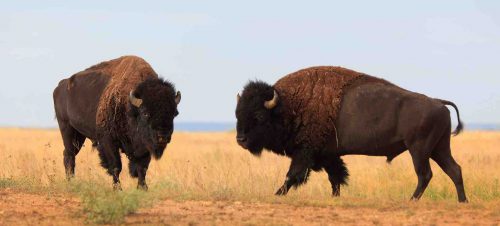 Monahans Sandhills State Park: 2.5 hours from lubbock is a sea of sand. Monahans State Park is a "mysical" land, with a diverse wildlife population and ever changing hills of soft widswept sand. Visit the visitors center to learn more about the park, then rent a sand disk and ride the sandhills! Entry to the park is $4.00 for adults and free for children under 13. Photo Source: texashillcountry.com
Bottomless Lakes, New Mexico State Park:Don't worry the lakes aren't really bottomless, but they are a stunning 90 feet deep! These lakes formed as sinkholes, and their green/blue appearance makes them look bottomless! Enjoy non-motorized boating in your kayak or canoe, camp, fish, picnic, swim, hike, go birding or even scuba dive! You can also sunbath and play on the man made beach! You can camp at the park or head over to nearby Roswell to stay at a hotel. The park is located 2.5 hours west of Lubbock.