Transportation

Welcome to the cycling community of Texas Tech! Each year, thousands of students and employees choose to bike to and from campus or even from their parking lot to their buildings. Texas Tech is the first League of American Bicyclists silver-level Bicycle Friendly University in Texas (press release).
This section of the website aims to provide the information you need to know about bicycling on campus:
For additional questions about bicycling on campus, feel free to contact TPS at (806) 742-PARK (7275) or bike.parking@ttu.edu.
About Citibus and Bus Routes
Citibus provides on- and off-campus bus service in Lubbock under the direction and guidance of Texas Tech's Student Government Association.
On-campus service is free to anyone on the Texas Tech campus. Students may ride for free on any Citibus off-campus route by showing their Texas Tech ID card. Click here to see schedules and maps.
On-Campus Bus Routes
Two routes are used just for the Texas Tech campus. Download the TPS campus routes brochure here.
Red Raider Route
Double T Route
Circles campus clockwise
Circles campus counter-clockwise
Service every 6 minutes*
from 7:25 a.m. to 7:17 p.m.
Service every 5 minutes*
from 7:25 a.m. to 6:59 p.m.
*Duration may be longer after 4 p.m.
Off-Campus Routes
Citibus provides a number of Off-Campus routes, including ones that transfer to Texas Tech campus buses. Click here to see a list of maps for these routes.

DoubleMap Bus Tracking App
Citibus offers DoubleMap for live bus tracking. Download the app through the App Store or Google Play store. Search for "Citibus (Lubbock)" in the location selection after downloading.

Need Help? Contact us!
Email the transportation demand management staff at transportation@ttu.edu for bus, Raider Ride, and bicycling questions.
Evening Transportation Service
Transportation & Parking Services is currently in the process of acquiring another service provider. In the meantime, the Raider Ride vans will operate on fixed routes. One route will circulate clockwise, and the other will circulate counterclockwise. The drop off and pick-up locations are shown on the map below: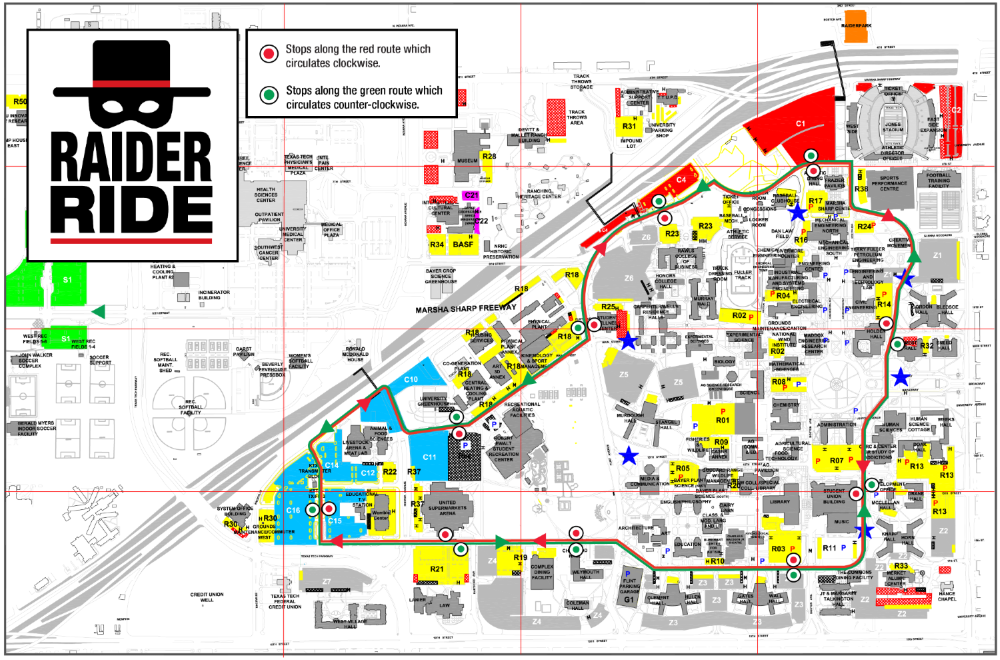 Interested in driving for Raider Ride? Contact transportation@ttu.edu!
TPS launched TECS in September 2019 to provide a way for Texas Tech University employees to have a free way to get around campus while helping decrease vehicle traffic and increase pedestrian safety on campus.
TECS offers free rides to Texas Tech University employees across the TTU, HSC, Texas Tech Plaza, and Downtown campuses every weekday when TTU is open from 7:30 a.m. to 5:30 p.m.
Employees only may request an immediate ride from 7:30am - 5:30pm on weekdays by contacting Transportation & Parking services at (806) 787-7548.
You may also schedule a ride 2 or more hours in advance by sending an email to transportation@ttu.edu.
* If you are not a current TECS user, please contact us at transportation@ttu.edu to enroll in service.
About Vehicle Rental
Vehicle Rental provides clean, low mileage 7-passenger and 12-passenger vans for rent to any university department.
Rental charges are conveniently charged to departmental accounts.
Vehicle Rental Process
Contact Vehicle Rental Fleet to check availability at transportation@ttu.edu
Complete the Vehicle Reservation Order Form
The completed Vehicle Reservation Order Form will be automatically sent to TDM & Transit Manager Craig Cotton
Vehicle rental is scheduled
All users must possess a valid operator's license and be approved by the Office of Risk Management.
Driver will pick-up vehicle on scheduled date and time
Rental Rates
Our rental rates are as follows:
7-passenger vans have an initial rental fee of $60 per day. The first 200 miles for each day are free, with an additional $0.35 fee for every mile thereafter.
12-passenger vans have an initial rental fee of $70 per day. The first 200 miles for each day are free, with an additional $0.40 fee for every mile thereafter.
Quick Links
About Fleet Management
Our Mission is to provide and manage safe, economical, and appropriate transportation for faculty and staff to perform their official duties.
Contact Information
Cassandra Rodriguez, Fleet Manager
Administrative Support Center, Room 201
407 Flint Ave
Lubbock, TX 79409
Hours of Operation
Monday - Friday 8:00 am - 5:00 pm
Operating Policies & Procedures
Forms
Scooters and E-Bikes
Catch a Lime-S electric scooter or Lime-E electric assist bicycle to get around campus and Lubbock! Pell Grant recipients and students receiving other government assistance are eligible for reduced rates (PDF).
Follow the same rules as bicycles
Always park at bike racks and in designated Lime parking zones
Wearing a helmet is strongly encouraged
Transportation & Parking Services
Address

MS 43161, Administrative Support Center, Room 145, Texas Tech University, Lubbock, TX, 79409-3161

Phone

806.742.7275

Email

parking@ttu.edu